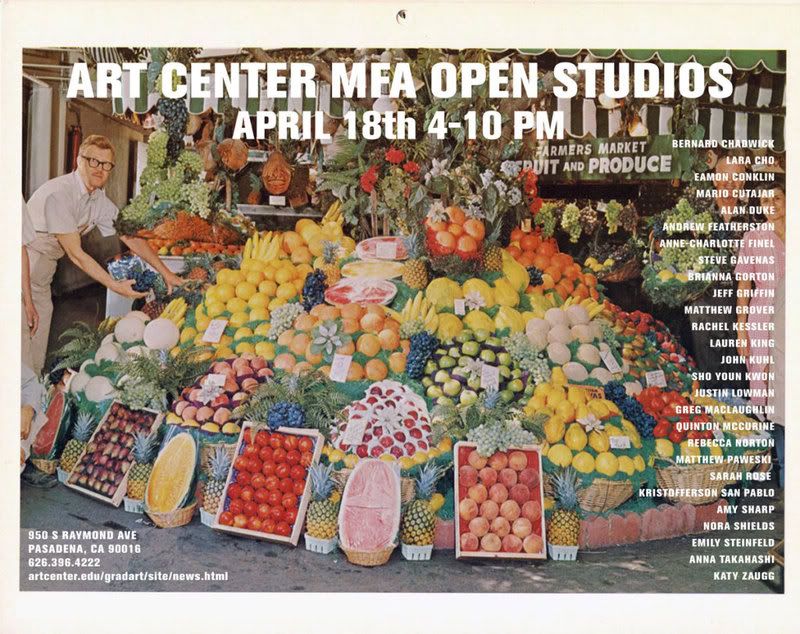 THEY ARE THE FUTURE.
Friends, Family, and Colleagues. Please join us for our annual open studio festivities with art, food, and music.
Twenty-seven graduate students in the Art Center MFA program will present work in a variety of media at the 2009 MFA Open Studios. This is a once-a-year opportunity for visitors to get a firsthand look at what is being produced by students in one of the most prestigious graduate art programs in the country. Artists will be available to answer questions.
In addition to the work on display in individual studios, a continuous program of video and film work will be screened for the duration of the event.
MFA candidates Matthew Grover and Greg MacLaughlin will have work on view in the South Campus graduate galleries.
Maps of the studios will be available to visitors upon arrival. This event is free and open to the public. Refreshments will be served.
Bands start at 8:00 beginning with
Pacific Trim & more TBA
with DJs The Bings!
The MFA candidates are: Bernard Chadwick, Lara Cho, Eamon Conklin, Mario Cutajar, Alan Duke, Andy Featherston, Anne-Charlotte Finel, Steven Gavenas, Matthew Grover, Brianna Gorton, Jeff Griffin, Rachel Kessler, John Kuhl, Lauren King, Sho Youn Kwon, Justin Lowman, Greg MacLaughlin, Quinton McCurine, Rebecca Norton, Matthew Paweski, Sarah Rose, Kristofferson San Pablo, Amy Sharp, Nora Shields, Emily Steinfeld, Anna Takahashi, and Katy Zaugg.
Art Center College of Design, South Campus is located at 950 S. Raymond Ave. Pasadena, CA 91105. Free on-site parking is available.
For more information please visit www.artcenter.edu or call (626) 396-4222.
p.s. watch: